Best 2 TB Solid State Drive For The Money
Reported Data Collected On: 1/Jan/2019
During past many years, the matter of computer's storage capacity has always been about whatever the best hard drives of a particular time could offer for the users. Forced to endure time-consuming transfer rate, many experts around the world keep looking for better and improved solutions.
SSD also known as solid-state drives, are fast and free you from the hassle of tedious data transfer procedures by delivering quicker file transfers and other similar tasks. SSDs are built on NAND flash memory, which is comparatively stabilized and will give you the best performance for years to come.
As luck would have it, today is the time where the best SSDs are available in the market;
Of course, an SSD is a way better option as compared to a standard HDD. They are very beneficial when you are traveling. When you are traveling with your laptop, your laptop is also moving along with you and might face some bumps while on the road, and those bumps can cause harm to HDD if in use.
However, there are very minimal chances in some very rare occurrences that SSD might get damaged while you are working and traveling at the same time. In addition, SSDs are small in size and carry less weight as compared to HDDs. Their smaller size makes space for other hardware. Also, SSD consumes lesser power as compared to HDD and gives a long-lasting performance.
A number of PC users around the world walk out to buy SSD without even possessing the information and knowledge required to buy the best and make the well-informed buying decision.
If you want to buy a 2TB SSD for your desktop, laptop or home server, then here are some top choices for that. Let's have a look at them:
Let's See The Top SSD's List
I've taken an oath to get you the best out of your purchase and that's why I already maintained SSDs Data into a sheet which took me months of work, just to compare out the flawless solid-state drive available at the marketplace. I compared 40+ SSDs only under this storage category.
SSDs available in 4 different types, 2.5 Inch, M.2, mSATA, and PCIe. To know more; How to buy SSD (Solid State Drive) for PC & Laptop?
Or if have any concern about the compatibility with your current selection, then here; Check SSD (2.5/mSATA/M.2/PCIe) Compatibility with Laptop or Desktop Motherboard
For performance comparison, just mainly look for the maximum numbers in spec under your budget and that will work for you.
So, let's starts with;
---
#Best 2TB 2.5 Inch SSDs Available In the Market
---
3rd 2.5 Inch – Micron 1100 MTFDDAK2T0TBN

Short Review: The Micron 1100 MTFDDAK2T0TBN is a 2.5 inch secure Micron solid state drive which has been built on a one-chip controller along with a SATA based interface on the side and four Micron NAND Flash channels on the internal side.
This Micron SSD is greatly compatible with current storage systems. This SSD has been designed in such a way that it makes full use of SATA interface while performing read and write tasks for the user.
The Micron 1100 can attain the read and write speed up to 530 MB/s and 510 MB/s respectively, which in turn allows the users to enjoy augmented booting times and quicker application usage. Built on power-efficient technology, the Micron 1100 operates for longer hours while consuming less power.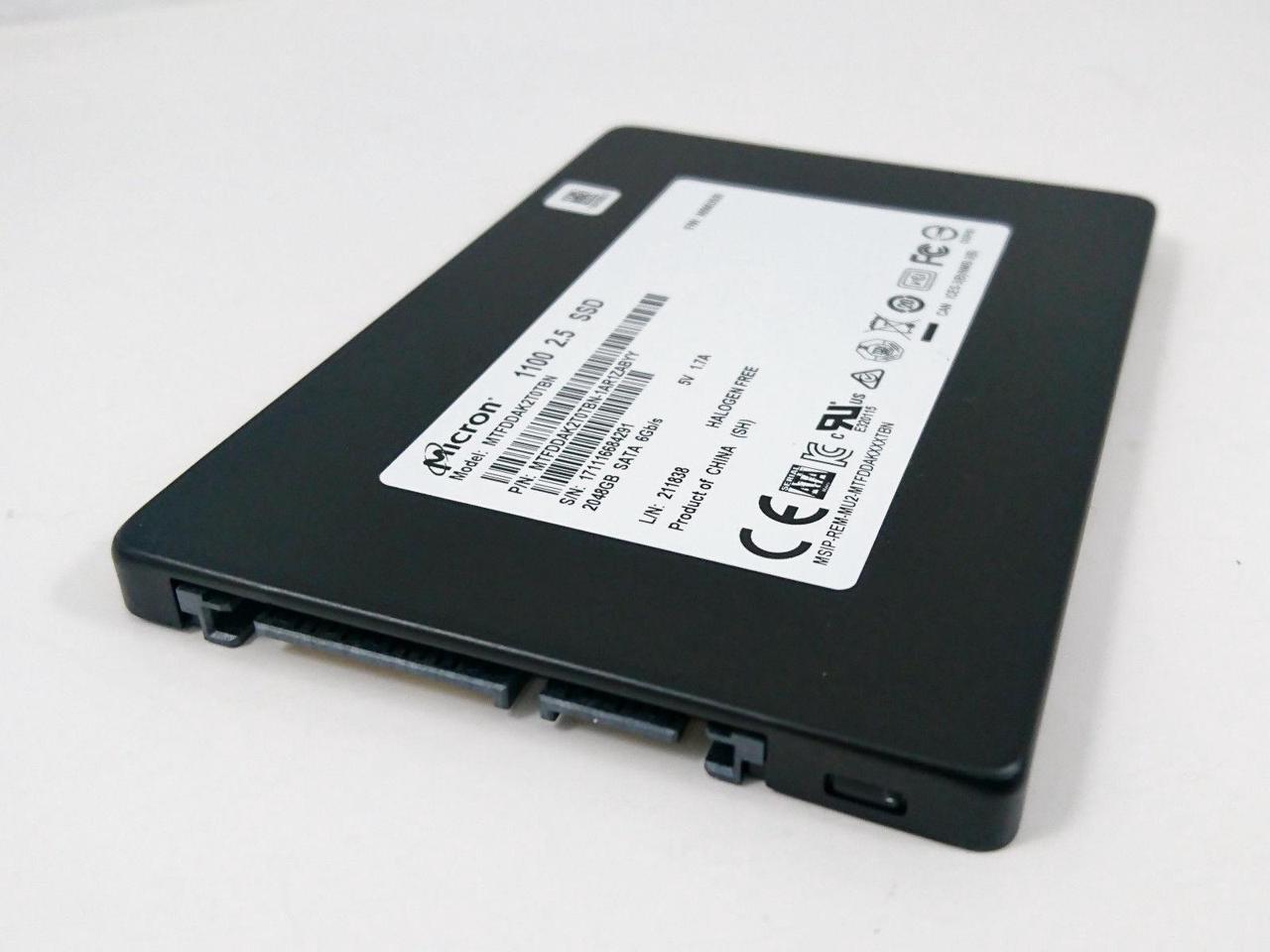 Micron Technology, Inc., is known for its quality products and is one of the worldwide leaders in making innovative semiconductor arrangements. The company has an extensive range of high-performing memory-based technologies along with NAND, DRAM, and NOR Flash, which helps in creating the foundation for solid state drives, and many other technological structures.
With the industry experience of more than 35 years, Micron's easy to install SSD solutions allows the world to see the most groundbreaking storage technology for both desktops and laptops.
It is a very effective and power efficient solution for storage problems users face on day to day basis. However, some users have not been very happy about its built quality and perhaps it's time for the company to look into the various quality its current customers are facing while working on their computers.
In my Opinion;
Micron is a budget brand, so they mainly offer products targeted towards the mid-range of the market. So, if you're looking for something under the budget then this one is the perfect drive what you can buy for any desktop and laptop.
Click on link to check out the current price of "Micron 1100 MTFDDAK2T0TBN": @Amazon US ($302.99), @Amazon UK (£432.94), @Amazon IND (₹36,000), @Best Buy (N/A),  @Walmart (N/A), @Newegg ($294.90).
---
2nd 

2.5 Inch 

–

WD Blue 3D NAND WDS200T2B0A

Short Review: The WD Blue 3D NAND WDS200T2B0A has been built on 3D NAND technology and it is available with the storage capacities up to 2TB with augmented stability and dependability. The Blue 3D SSD is obtainable in with the storage capacities of 250GB, 500GB, 1TB, and 2TB. It has a power efficient system and consumes the power 25% lesser than the previous WD Blue SSDs.
You can work for longer hours without using too much power and can achieve the read and write speed up to 560MB/s and 530MB/s respectively, which makes this drive a great choice for those who go through the heavy amount of workload on daily basis and use rigorous computer applications. Nevertheless, under some circumstances, it might reach to a point where it might slow down and not deliver its optimum performance.
The company offers 5 years limited warranty with this SSD and by downloading the free WD SSD Dashboard software, you can without doubt, successfully upgrade your desktop or laptop system for the WD Blue 3D NAND SATA SSD.
This software will keep the track of this SSD performance and also offer the backup facility. On the other hand, based on the working environment, the accessible storage capacity of the drive can vary. In addition, this SSD has been certified with WD F.I.T. Lab certification in order to ensure that it is compatible with an extensive variety of desktop and laptop computers.

Even though it is certified with WD F.I.T. Lab certification, it may not be compatible with every device and in addition, it is quite costly and not everyone can buy it.
In my Opinion;
Another worthy drive of our list. After WD bought Sandisk in 2015 they instantly branched out into the consumer sector with their WD Blue SSD series. This drive comes with a real enhancement over its predecessor and made a good position in the mid-range products.
Click on link to check out the current price of "WD Blue 3D NAND WDS200T2B0A": @Amazon US ($359.99), @Amazon UK (£344), @Amazon IND (₹34,379.96), @Best Buy (N/A),  @Walmart (N/A), @Newegg ($359.99).
---
1st 2.5 Inch – SAMSUNG 860 PRO MZ-76P2T0BW

Short Review: As it has been offered by one of the most prestigious brands in the world, SAMSUNG 860 PRO MZ-76P2T0BW is a stable SSD or solid state drive that can give you the performance you are looking for. Built on 3D VNAND flash, this SSD drive delivers improved read or write performance along with strength and power efficient system.
It is an ideal choice for desktops and laptops. Along with the 3D VNAND technology, this Samsung SSD also has a powerful controller based on algorithms, which enables this drive to promptly manage a large amount of data in order to deliver long-term performance for people who are involved in businesses like IT professionals, gamers, and other inventive professionals who work in the similar fields.
When it comes to speed of data transfer and other similar tasks, SAMSUNG 860 PRO MZ-76P2T0BW provides you with consistent speeds that will continue with the best performance even during the completing the various tasks at once.
This drive can reach up to the speed of 560 MB/s. You can easily and securely store and implement your favorite or work related 3D data applied by the latest user-friendly applications along with the 4K videos and 3D data used by the latest applications. You will also be getting limited warranty for 5 years, or up to 2400 TBW (Terabytes Written), whichever arrives first.
Basically, it can be said that this SSD offers smart compatibility for its users. It offers quicker and smoother communication with your system. However, despite all its best features, some users in the past have faced the quality and functionality issues with this drive and not everyone can afford this SSD.
In my Opinion;
This is the fastest drive available under the SATA category. Not a single 2.5 inch drive can compete with this series of solid state drive. With 2400 TBW endurance, 860 PRO really drag all the drives out of the competition.
Click on link to check out the current price of "SAMSUNG 860 PRO MZ-76P2T0BW": @Amazon US ($597.99), @Amazon UK (£604.84), @Amazon IND (₹65,747.76), @Best Buy (N/A),  @Walmart (N/A), @Newegg ($595.00).
---
#Best 2TB M.2 SSDs Available In the Market
---
1st M.2 – Samsung 970 EVO MZ-V7E2T0BW

Short Review: Known for its quality products, The Samsung 970 EVO MZ-V7E2T0BW is one of the leading reliable and secure SSDs in the market built on V-NAND technology. It delivers undeviating and first-rate performance for its users and has expedited into innovative computing solutions with the read speed up to 3,500 MB/s and write speeds up to 2500 MB/s, which is 32% quicker than preceding SSD generations from the same company.
The manufacturer offers a limited warranty of 5 years together with excellent SSD endurance up to 1,200 TBW, which is 50% higher than past generations. The Samsung SSD offers the best speeds, high level of reliability, and an extensive range of storage capacities including 250GB, 500GB, 1TB, and 2TB
. Its large storage capacity allows you to accomplish as many tasks as you like using this SSD and its size also saves enough area for other constituents.
Along with V-NAND technology, this extraordinary Samsung SSD also comes equipped with an innovative Phoenix controller and Intelligent TurboWrite technology which improves the gaming experience for gamers and enables better graphics editing for creative professionals. Samsung offers top quality SSDs and Samsung 970 EVO MZ-V7E2T0BW is no exception.
Fortified with high-tech nickel-clad controller and heat spreader, the Samsung 970 EVO averts overheating when you are working for long hours. In addition, the Dynamic Thermal Guard guards and keeps the temperatures under control in order to lessen any kind of drop in the overall performance of the drive. Perhaps one of the major drawbacks for some users is the cost of the drive as not everyone can afford it and not all Samsung 970 EVO performs same.
In my Opinion;
This drive is fast only according to this storage category. But if you're really looking for something more powerful than this, then you should need to divert your research under the 1 TB variant. 970 Series only limit to 1 Terabyte.
Here's a link for the "860 PRO" Review:  Top & Best 1TB SSD (2.5 Inch/mSATA/M.2/PCIe) – Monthly Updated
Click on link to check out the current price of "Samsung 970 EVO MZ-V7E2T0BW": @Amazon US ($697.99), @Amazon UK (£522.18), @Amazon IND (₹119,999.00), @Best Buy (N/A),  @Walmart (N/A), @Newegg ($577.99).
---
#Best 2TB PCIe SSDs Available In the Market
---
1st PCIe – Intel SSD P4600 SSDPEDKE020T710

Short Review: Intel has transformed the SSD market with its P4600 series and Intel SSD P4600 SSDPEDKE020T710 is an important part of it. The Intel SSD P4600 SSDPEDKE020T710 with the extraordinary endurance of up to 11080 TBW has been intended for storing the large amounts of data and give optimal performance for the users. Designed as optimized storage solutions, the Intel SSD P4600 SSDPEDKE020T710 augments the server speed and usage in a significant manner.
This drive stores the data in the most efficient way as it has been built on Intel 3D NAND technology to reduce the requirement for specialistic servers. Following the highest industry standards for quality and reliability, this Intel SSD will deliver you with most effectual performance while also keeping all your data safe and protected from any harm. It significantly brings down any probability of breaks in data transfer and any accidental data errors.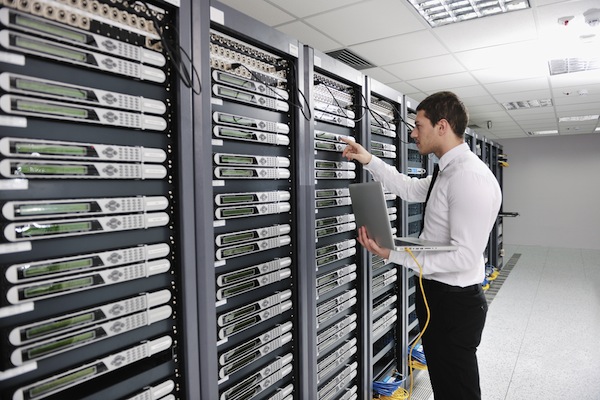 The Intel SSD P4600 series provides the users with advanced tractability and usability features which allows them to monitor, handle and integrate with more devices and many streamlined services.
Paired with unique features and innovations, the industry-leading Intel SSD P4600 series with 3D NAND technology offers all new system for supporting the data storage requirements of cloud storage platforms and software-based organizations.
The Intel SSD P4600 Series is well-stacked with a coalition of best performance, highest capacity, superior manageability, and unparalleled reliability. It has been designed to assist data centers to increase the operational growth of their business enterprise and satisfy all the needs and demands of their digital business organization.
In my Opinion;
'11.8 PBW' means '11800TBW' endurance. A perfect AIC Drive for any performance needy environment. This enterprise-class drive will be a wonderful choice if you need an SSD for your own server.
Click on link to check out the current price of "Intel SSD P4600 SSDPEDKE020T710 ": @Amazon US ($1458.00), @Amazon UK (£1400.00), @Amazon IND (N/A), @Best Buy (N/A),  @Walmart (N/A), @Newegg ($1447.33).
---
And that's our top 5 list of the best 2 TB (2.5/M.2/PCIe) SSD what you can get for your desktop or laptop computer. Stay tuned for more! – So, what will you pick, if you wanted one for yourself? Let me know in the comments below:

Happy Shopping!!!