Dye Sublimation printing has become a popular choice for businesses looking to produce high-quality and vibrant products. Now business owners can make a number of products, including sportswear, promotional items, home decor, and more, thanks to the ability to transfer dye onto a wide range of surfaces.
Dye sublimation printing gives businesses the option to create a variety of items with top-notch and brilliant colors in response to the rising demand for personalized and customized products. They can create goods, such as t-shirts, mugs, etc., that not only satisfy the needs of their customers but also stand out in the market.
Sublimation printing is also environmentally friendly. Sublimation printing creates no waste because the ink is absorbed into the fabric or material, leaving no surplus ink or leftovers. This makes it a perfect choice for companies trying to lessen their environmental effect and their carbon footprint.
The key to achieving the best results with this type of printing is to use high-quality sublimation ink and paper. One of the most significant benefits of using good-quality ink and paper is improved print quality. They are specifically designed to provide rich, vibrant colors and sharp, detailed images. Also, the ink is more durable and resistant to fading, ensuring that your prints will look great for years to come.
The market is flooded with a wide range of Dye Sublimation Printers, making it difficult for businesses to select the best option for their needs. We have developed a list of the best Dye Sublimation Printers available on the market to assist businesses in making informed decisions. Our selection includes printers with a variety of qualities, such as high-quality prints, adaptability, and cost-effectiveness.
Each printer on our list was specifically selected based on its features, performance, and customer reviews. We considered variables such as print quality, speed, versatility, and cost-effectiveness to guarantee that businesses get the most bang for their buck. Whether you are looking for a budget-friendly option or a high-performance printer, we have you covered.




So, Let's See How Many Printers Are Available For Sublimation Heat Transfer Printing
---
Top 8th Printer – Sawgrass SG500
About it: The Sawgrass SG500 HD Product Decorating System is the latest offering from Sawgrass, designed for sublimation printing. Compared to its predecessor, the SG400, it is a fully integrated desktop solution that provides higher quality, efficiency, and cost. For amateurs or small company owners wishing to produce personalized goods with vivid and high-definition images, the SG500 is preferable.
The SG500's WiFi functionality, which enables simple connectivity to the printer without the use of cords or cables, is one of the most significant upgrades. The backlit LCD panel also makes it simpler to monitor the printing process and browse the printer settings. Additionally, the 4880 x 1200 DPI resolution guarantees the printed images' sharpness and clarity, with the ability to print at an ultra-fine scale. Also, the brand-new processor also contributes to faster image processing and reduces the time needed for printing.
This printer is built to maximize quality and efficiency while minimizing ink and power consumption. Since the cost per image is reduced as a result, it is a viable choice for individuals who are just starting their businesses. Plus, the printer offers users total peace of mind with a two-year guarantee and unlimited technical assistance for the duration of the device.
The SG500 is backward-compatible with SG400 accessories, including the bypass tray, which allows for printing on media up to 51 inches long. Additionally, the printer runs a self-contained, automatic maintenance cycle to guarantee flawless printing. The SG500 is a dependable alternative for sublimation printing since the single roll bar eliminates paper jams and the metal encoder strip minimizes dust gathering.
For those wishing to establish their own business as well as for enthusiasts looking to make personalized products with vivid and high-definition pictures, the Sawgrass SG500 HD Product Decorating System is a flexible and effective choice. It's a fantastic alternative for anyone wishing to produce like never before thanks to its small size, inexpensive setup, operating costs, and expanded features.
Click on link to check out the current price of "Sawgrass SG500":@Amazon US ($619.99), @Amazon UK (N/A), @Amazon IND (N/A), @Bestbuy (N/A), @Walmart ($649.99), @Newegg (N/A).
---
Top 7th Printer – SureColor F170
About it: A superior dye-sublimation printer, the SureColor F170 is built to deliver quick and dependable printing right out of the box. With its strong PrecisionCore technology, this high-performance printer can print professional-quality prints on a variety of items, including awards, mugs, mousepads, and more.
The SureColor F170's small form, which maximizes workshop space, is one of its distinguishing qualities. The printer's inbuilt Wi-Fi, USB, and Ethernet connectivity options make it simple to connect it to your network, and the 2.4-inch color display offers a simple user interface for managing and controlling the printer.
Genuine Epson dye-sublimation ink technology produces exceptional color saturation and great color contrast, and the PrecisionCore printhead provides Precision Droplet Control for superb clarity. High-capacity ink tanks need to be changed less frequently, and the auto-stop function makes it simple and clean to replenish the ink. With the enhanced efficiency of the 150-sheet auto-feed tray, you can easily handle a range of print jobs.
The SureColor F170 is a versatile printer that can handle a multitude of projects thanks to the Epson DS Multi-Use transfer paper, which creates outstanding images on both flexible and stiff materials. You may have faith in the functioning of your printer for many years to come since Epson's world-class service and support are backing up the printer's dependability.
To sum it up, the SureColor F170 is a superb option for anyone searching for a dependable, superior, and adaptable dye-sublimation printer. It's ideal for adding gorgeous photographs to a variety of products thanks to its small size, built-in connectivity, and strong features.
Click on link to check out the current price of "SureColor F170":@Amazon US ($399.99), @Amazon UK (N/A), @Amazon IND (N/A), @Bestbuy (N/A), @Walmart ($399.99), @Newegg ($619.99).
---
Top 6th Printer – Sawgrass SG1000
About it: The Sawgrass SG1000 Sublimation Printer is a must-have for businesses and entrepreneurs who are looking to take their printing capabilities to the next level. This printer is intended for use by businesses that demand high-quality sublimation printing. It can print on media up to 11″x17″ with the basic tray. With the extra Bypass Tray (available separately), you may print even larger prints up to 13″x51″.
The SG1000 is an improvement over its predecessor, the SG800, in terms of design and technology. It produces high-resolution prints with improved simplicity of use and a more user-friendly experience thanks to its single roll bar and energy-efficient design. The SG1000 also has WiFi connectivity, making it simple to connect to your devices and manage your printing activities.
When you buy the SG1000, you can select the size of the ink cartridges that come with the printer via the Install Kit. Starter Installation Kits contain 20ml of ink, Standard Installation Kits contain 31ml of ink, and Extended Installation Kits contain 70ml of ink. This allows you to select the ink capacity that is best suited to your needs, helping you to manage your printing costs more effectively.
It works with a range of operating systems including Windows 8.1, Windows 10 (Pro or Enterprise), Windows 11, MacOS 10.14, MacOS 10.15, MacOS 11.0, and MacOS 12.0. Also, the printer comes with Expert Color Management Software, SawGrass Print Manager, and CreativeStudio Online Designer Software.
Ultimately, the Sawgrass SG1000 Sublimation Printer is a wonderful alternative for people looking to establish their own business or expand an existing one. The SG1000 will help you take your business to the next level with its versatile dimensions, high-resolution printing, and WiFi connectivity. This printer will produce high-quality results whether you're printing on clothes, soft products, or photo panels.
Click on link to check out the current price of "Sawgrass SG1000":@Amazon US ($1,656.00), @Amazon UK (N/A), @Amazon IND (N/A), @Bestbuy (N/A), @Walmart ($1,699.99), @Newegg ($1,800.00).
---
Top 5th Printer – Epson SureColor PRO F570
About it: Its 24-inch dye sublimation print size, Epson Edge Print Pro software, and Adobe PS3 and PDF Print Engines make the Epson SureColor PRO F570 a cost-efficient option for creating prints with a high level of professionalism. The F570 is perfect for a variety of materials thanks to its potent PrecisionCore technology, including polyester textiles, customizing trophies, mugs, artwork, mousepads, tiles, wood, acrylic, glass, and more.
Everything you require to get started with this high-performance printer is included straight out of the box. A 50-sheet auto-feed tray with a built-in cutter, specific transfer paper rolls for use with both rigid and flexible media, and drivers for Windows and Mac are all included. Also, the F570 is a fantastic option for tiny spaces because of its sleek, space-saving design.
The huge 4.3-inch LCD color touchscreen on the F570 makes printing operations more easier and makes the device highly user-friendly. The printer supports rolls from 8.3 inches to 24.4 inches on 2-inch cores and sheets from 8.3 x 11 inches to 11 x 17 inches. It is simple to connect to the printer through USB, Ethernet, or integrated wifi.
As opposed to the industry standard of 32ml, the F570's refillable sublimation ink system has 140ml of ink each refill, giving it a more affordable option for creating high-quality prints. With a resolution of 2,400 x 1,200 dpi, each print will have exceptional clarity and sharpness. Additionally, you can be confident that you'll have the help you need thanks to its 2-year product guarantee and unlimited tech support.
The Epson SureColor PRO F570 is unquestionably a great printer to take into consideration if you're looking for one that is high-performance, dependable, and reasonably priced. This printer is the ideal choice for companies and entrepreneurs wishing to expand their operations and step up their printing due to its small design, simple operation, and wide range of media support.
Click on link to check out the current price of "Epson SureColor PRO F570":@Amazon US ($2,495.99), @Amazon UK (N/A), @Amazon IND (N/A), @Bestbuy (N/A), @Walmart (N/A), @Newegg ($3,500.99).
---
Top 4th Printer – Epson SureColor F6470
About it: High-performance digital printer the Epson SureColor F6470 is made to boost business productivity. This flexible dye-sublimation transfer printer's 44″ print size and ability to produce 4-color output at rates of up to 820 square feet per hour make it the ideal choice for companies that need to produce high-quality images quickly and efficiently. Whether you're printing promotional products, apparel, home décor, or soft signage, the F6470 will get the job done. goods.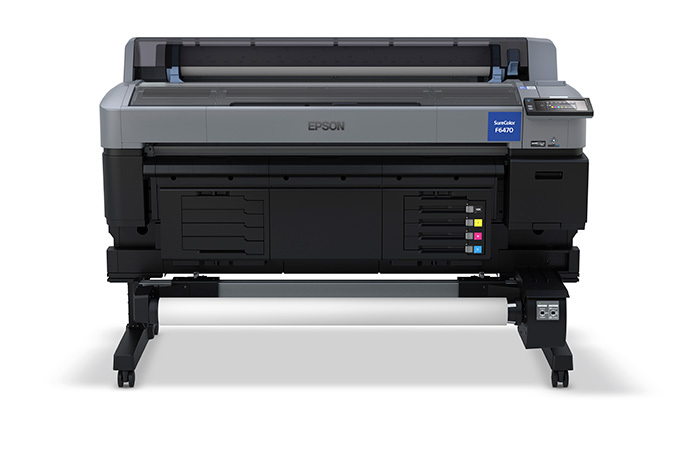 The F6470's 1.33″ PrecisionCore® MicroTFP printhead with Nozzle Verification Technology is one of its standout characteristics. This technology offers great and consistent print quality, making the F6470 a dependable and efficient office printer. The integrated ink pack technology, which uses 1.6-liter UltraChrome® DS Ink packs, contributes to the printer's high-quality output by offering rich color saturation and contrast with each print.
The SureColor F6470 was also designed with ease of use in mind. The 4.3″ touchscreen control panel makes it simple to use, and the easily accessible maintenance section ensures that any faults are remedied as soon as possible. The built-in cutter and media take-up reel system make printing more convenient and efficient, while the front-loading media option makes changing paper rolls simple.
The F6470 also includes advanced Epson Edge® Print software with Adobe® PDF Print Engine. This software allows you to enhance your printing process and streamline your workflow. Moreover, Epson® Cloud Solution PORT2 allows you to track your printer fleet in real-time, providing you complete control over your printing processes.
Therefore, the Epson SureColor F6470 is a versatile, high-performance digital printer designed to increase corporate efficiency. The F6470 is the ideal answer for organizations that want quick and effective printing of high-quality photographs because of its advanced features, ease of use, and great print quality.
Click on link to check out the current price of "Epson SureColor F6470":@Amazon US ($8,195.00), @Amazon UK (N/A), @Amazon IND (N/A), @Bestbuy (N/A), @Walmart (N/A), @Newegg (N/A).
---
Top 3rd Printer – Mimaki TS100-1600
About it: The Mimaki TS100-1600 is a high-performance sublimation transfer inkjet printer designed to increase corporate efficiency. This printer, with two newly developed heads, provides high-quality, high-speed printing capabilities as well as a steady operation, making it a perfect choice for textile garments, sportswear, soft signs, and other related products.
The TS100-1600 has a maximum print speed of 70m2 per hour and many print modes to fit your demands. The quickest mode has twice the productivity of the previous model, while the practical quality mode has 46m2 per hour and the high-quality mode has 19m2 per hour.
The Sb610 Sublimation ink is used in the TS100-1600 and comes in four brilliant colors: blue, magenta, yellow, and black. The high-density ink produces vibrant colors and excellent color reproduction, making it suited for a wide range of items. The Sb610 ink is also extremely stable during continuous discharge and when left unattended, enabling for stress-free production that helps to site productivity.
The TS100-1600 is outfitted with innovative features such as the NCU (Nozzle Check Unit), NRS (Nozzle Recovery System), and MAPS4 (Mimaki Advanced Pass System4), which enable consistent high-quality printing. The DAS (Dot Adjustment System) was also included in the new "100 series" printers, decreasing operator workload by automatically correcting dot position and feed adjustment.
Nevertheless, the Mimaki TS100-1600 is a dependable and adaptable sublimation transfer inkjet printer with high-quality, fast printing and stable operation. This printer is a fantastic alternative for organizations trying to maximize production and efficiency while still delivering high-quality outputs, thanks to its advanced features, affordable cost, and ability to handle a wide range of products.
Click on link to check out the current price of "Mimaki TS100-1600":@Amazon US ($10,498.00), @Amazon UK (N/A), @Amazon IND (N/A), @Bestbuy (N/A), @Walmart (N/A), @Newegg (N/A).
---
Top 2nd Printer – HP Stitch S500
About it: The HP Stitch S500 is a high-performance dye-sublimation printer with a focus on accuracy and consistency. Because of its innovative features that make printing easier and more efficient, it has received numerous excellent evaluations from dye-sub printing professionals. The HP Stitch S500 provides industry-leading color consistency with its HP SmartColor function, regardless of whether you are utilizing lightweight transfer paper or straight-to-fabric transfer printing.
The HP SmartColor function uses an in-built spectrophotometer to provide consistent color and accuracy across your printer fleet. Its color management features identify and adjust for color variances automatically, and it can even discover the closest color match if the intended color is unavailable. This saves time and reduces manual interventions because the system handles all color adjustments for you.
The HP Stitch S500 64-in features a Smart Nozzle Compensation mechanism for consistent image quality. With a native printhead resolution of 1200 dpi and the Optical Media Advance Sensor (OMAS), the system can detect and adjust for up to 30% nozzle failure, ensuring that your prints always look their best. The Drop & Dry print zone dryer prevents cockling and wrinkling, which can degrade printing quality, especially when using lightweight transfer paper or low-grammage papers.
Another amazing feature of the HP Stitch S500 printer is the user-replaceable printheads. They lower the cost of printhead maintenance and allow you to replace the printhead yourself, saving you money on downtime and the requirement for an HP specialist to visit your location. If your HP Stitch S500 begins to fail, you can instantly diagnose and resolve the issue using HP PrintOS, a cloud-based solution that helps you to correct problems from anywhere and at any time using your connected smartphone.
Ultimately, the HP Stitch S500 64-inch is a fantastic choice if you need a high-performance dye-sublimation printer that can handle big format jobs with diverse color profiles.
Click on link to check out the current price of "HP Stitch S500":@Amazon US ($18,995.00), @Amazon UK (N/A), @Amazon IND (N/A), @Bestbuy (N/A), @Walmart (N/A), @Newegg (N/A).
---
Top 1st Printer – Epson SureColor F9470H
About it: The Epson SureColor F9470H is a high-performance, 64-inch printer designed for dye-sublimation transfers with great visibility. It is a complete solution that includes Epson Edge workflow software, a highly accurate roll-to-roll media support system with advanced auto paper-tension control, and high-capacity ink tanks for continuous production around the clock. The F9470H is ideal for high-volume, industrial settings, producing vivid garments, soft signs, décor, and more.
One of the F9470H's noteworthy characteristics is its dual PrecisionCore TFP printheads, which allow for high-quality prints at speeds of up to 1,169 ft square per hour. The fabric wiper system maintains excellent print head dependability and consistency, while the post-heater accelerates ink drying to match greater print speeds.
PrecisionCore TFP technology is a commercial-grade, dependable twin print head technology capable of high output with low maintenance downtime. The True 1,440 nozzles per inch dedicated to each CMYK channel provide rapid print speeds. With resolutions up to 1,440 x 720 dpi 8-pass for superb picture quality and precision dot control for outstanding clarity and sharpness for garment imaging, the print quality is exceptional.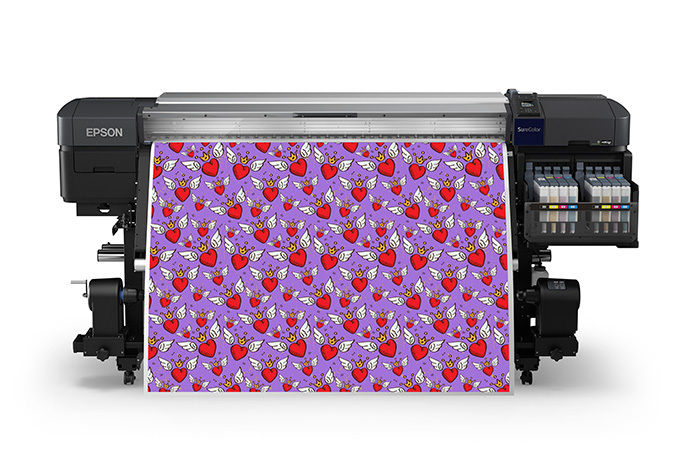 The F9470H's dual print head architecture allows a problematic head to be disabled while still producing sellable output. MPO Multi-Pass Overlap technology boosts production speed by preserving print quality with fewer print passes. To correctly manage paper feed and almost eliminate banding, the Advanced Auto Paper Tension control system employs both the media feed motor and the roll driving motor. The print head air-guard regulates the airflow surrounding the print head to ensure that ink droplets are accurately deposited on paper, resulting in smooth tones with minimal grain.
Ultimately, the Epson SureColor F9470H is a fast, dependable, and prolific printer ideal for high-visibility digital dye-sublimation transfers. It creates outstanding-quality prints at rapid rates and is a complete solution for high-volume, industrial situations, thanks to its two PrecisionCore TFP printheads, the full spectrum of bright UltraChrome DS6 ink, and innovative technology.
Click on link to check out the current price of "Epson SureColor F9470H":@Amazon US ($26,995.00), @Amazon UK (N/A), @Amazon IND (N/A), @Bestbuy (N/A), @Walmart (N/A), @Newegg (N/A).
---
And that's our list of top 8 Best Printers For Sublimation Heat Transfer Printing. Stay tuned for more! – So, what will you pick, if you wanted one for yourself? Let me know in the comments below:

Happy Shopping!!!