Best 1TB Internal Hard Drive What You Can Buy For Your Laptop, Desktop Or PS3 / PS4
Report Data Collected On: 1/Nov/2018
Even after the advent of cloud storage options DropBox, iCloud, and so more, we still need Internal Hard Drives to store our important and confidential information.
The internal hard drives are known for offering the speed of transfer as well as abundant capacity to the operating systems used by us. These also support all kinds of files and programs available on multiple devices.
Storage is one of the most important factors when you are working on a desktop or laptop computer. In today's huge technology market, it can be quite a daunting task to search for the best and the most reliable Hard Disk Drives (HDDs) or Solid State Drives (SSDs) out there.
If you are confused about what to choose for your computer or laptop, then read this guide about some of the top 1 TB hard drives trending in the technology market.




The choice of your hard drive among HDD, SSD, or SSHD would usually depend on your personal usage requirements.
The final decision to buy from any of these would depend on your current situation, purpose, and budget. It will also be determined by the type of system that you are currently using.
Then, there are additional factors that contribute to your purchasing decision like the speed of transfers, reliability of the particular hard drive, its durability, and repairing capacity.
Here's The List of Few Important Things What You'll Need to See before Buying Any HDD:
Size

– Hard drive comes in a lot of different sizes, but mostly we only use three common sizes for our storage needs. The first one is 3.5 Inch, it's big full-size drive what we normally use in our desktops computers. The second one is 2.5 Inch 9.5mm small drive which you can mostly see in your laptops or PlayStation. The third one also comes in 2.5 Inch but it's 2.5mm thinner than the 9.5mm 2.5 Drive. So, make sure about your correct size selection before buying any. Tip: You can see your old system drive to confirm the size.

RPM

– HDD uses a motor to spin the built-in disk, and that motor's speed defines through RPM (Round per minute) and always remember, higher the number is better.
Cache – HDD cache mainly used to process the current process data and the only thing what you'll need to remember is, the higher the cache size is, the better multitasking that HDD can handle.
Suggested link: How To Buy A Good New Hard Disk Drive?
Once you have considered upon all the essential parameters, you can then go on to buy the best 1 TB hard drive for your system.




So, Let's See How Many Best 1 TB Hard Disk Drive Are Available:
---
#Best 1TB 2.5 Inch HDDs Available For Laptop
---
4th 2.5 Inch – Seagate BarraCuda 'ST1000LM048'

About it: The hard disk drive by Seagate BarraCuda 2.5' has 1 TB space. The hard disk drive is 7 mm tall for laptop/SFF. BarraCuda is a reliable, durable family among Seagate hard disk drives. It is a new addition to their high-performance models. This can be coupled with both laptops as well as SFF desktop computers.
The model belongs to the 2.5 inches models. It is equipped with 5400 rpm of speed and 128 MB space in the cache memory. Also, SATA-600 interface for high-quality performance. This one provides a variety of spaces in the hard disk drive ranging from 500 Gb to 5TB.
The models up to 2 TB memory are equipped with 7mm tall height while the others with over 2 TB space has a bigger model size of 15 mm. That's why you have to keep in mind before mind if you fir most laptops with 9.5 mm tall drive space you can't go for 3TB or lager variants.
The technology is based on magnetic recording platters and multi-tier caching abilities. The hard disk is designed with the purpose to hide peculiarities of SMR. It features shingles recording to overlap the previously written tracks by writing new magnetic tracks. This may slow down the speed of processing a little as the adjacent tracks are being re-write. Overall, this is a great buy and one of the best by Seagate family.
Click To Check Out The Price Of "Seagate ST1000LM048": @Amazon, @Newegg.
---
3rd 2.5 Inch – Western Digital Blue 'WD10SPZX'

About it: The WD Blue is another great choice along 2.5" hard disk drives. It is one the first 7mm drive which offers 1TB robust capacity of space of hard disk drive. The space variants vary from 250 GB to 1 TB. Also, it is equipped with 5400 rpm motor speed.
It is the best example of WD's approach to driving innovation in the storage segment. Earlier the 2.5" portable hard disk drives from WD needed a 9.5 for factor and three platters to provide 1 TB space in the hard disk drive.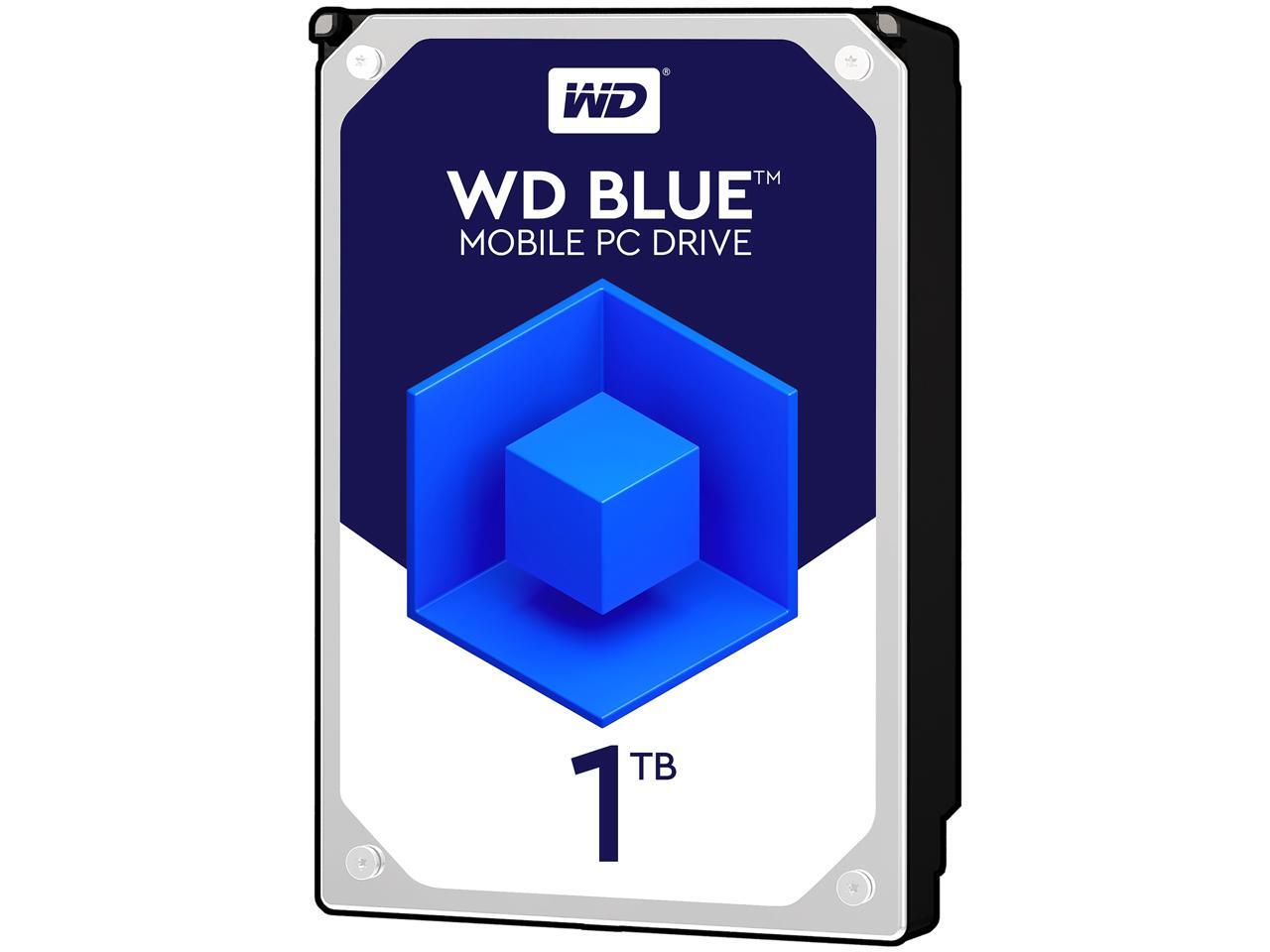 Now it has a smaller form factor. It offers the thinnest height of 5mm with 500GB variant. It has SATA 6 Gb/s interface with an internal transfer rate of 113MB/s max. It offers 128 MB of buffer memory enabling fast processing as well as a Marvell 88i9446 controller.
Power consumption is an important factor to consider while choosing a hard disk drive. This one for WD had an average idle power rate of 0.57 watts and active seek rate of 1.7 watts. Overall, this is a smart buy at 7mm, thinnest 1TB hard disk drive in the market which lies in thin hard drive category which high-quality performance.
Click To Check Out The Price Of "WD Blue WD10SPZX": @Amazon, @Newegg.
---
2nd 2.5 Inch – Western Digital Black 'WD10JPLX'

About it: Next option in 2.5" category is again by WD. This one with 2.5" form factor and 1 TB space matches the requirements of both gamers or a professional. This could be used by notebook users or in an all-in-one computer. It performs equally well with both kinds of devices.
It features a SATA 6 Gb/s interface. Also, a 7200 rpm of rotational speed for the best performance. With its 32 MB of cache memory, it is designed for many high performance and high-quality activities from video and photo editing to gaming.
It offers a faster data access and fast loading of data. The hard disk driver from WD offers the performance-enhancing feature. This provides the required speed for particular applications such as internet gaming and editing. It makes your compromise for nothing as it offers high-performance, durability, and capacity.
It is equipped with rock-solid mechanical architecture and dual processor to maximize the performance and twice the processing. This hard disk drive from WD has an amazing caching algorithm which upgrades the performance in real time.
This is done by cache allocation between writes and reads. It automatically allocates more cache for reading data during reading and writes traffic.  It has NoTouch Ramp load technology that ensures the recording head never touches the disk media.
Click To Check Out The Price Of "WD BLACK WD10JPLX": @Amazon, @Newegg.
---
1st 2.5 Inch – Western Digital VelociRaptor 'WD1000CHTZ'

About it: Now the top one that lies under 2.5" form factor capacity is again from WD. WD surely is bringing their game up with their VelociRaptor model. This one is an example that proves hard disk drives can work with substantial performance under the right conditions.
This model has a rotational speed of 10,000 RPM for high-speed performance. It offers 1 TB total space while with previous models it was up to 600 GB only. Equipped with SATA 6 Gb/s the hard disk drive promises high performance, capacity and durability.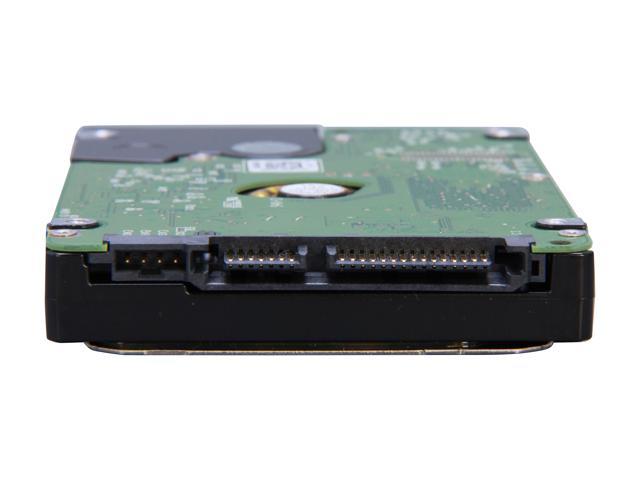 It has a maximum 182 MB/s of data transfer rate and 64 MB of cache memory. Also, it provides 8 seconds of average drive ready cycles and total 600,000 loads/unload cycles. The average power requirement of random read/write is 5.1 W, for idle it is 4.2 W, for standby and sleeps it is 1.1 while for sequential read/write it needs 5.8 W power consumption.
It offers very interestingly heavy-write endurance workloads when coupled with typical hard drive characteristics. Internally, WD has three 333 GB platters enabling 1 TB capacity, smaller capacity drives, and smaller strokings.
The VR family comes with 5 years of warranty with the product. Lastly, it has a very unique appearance hard disk drive mounted on an icepack heatsink frame which gives a high-tech and rugged appearance.
Click To Check Out The Price Of "WD WD1000CHTZ": @Amazon, @Newegg.
---
#Best 1TB 3.5 Inch HDDs Available For Desktop
---
3rd 3.5 Inch – Seagate BarraCuda 'ST1000DM010'

About it: Consuming The BarraCuda  Pro by Seagate is every tech enthusiastic and professional's dream. It offers space capacity of 1 TB with SATA 6 Gb/s interface. This one has a maximum of 4096 bytes per sector transfer rate and 7200 RPM rotational speed enabling high-speed performance.
To enable you to load applications and files faster than ever it has a large cache size taking your PC to next level of good performance. And this best-in-class features of this hard disk drive has a 5-year warranty so that you can chill for 5 years in terms of your hard disk drive.


It is equipped with 64 MB buffer memory. It has a 7 pin Serial ATA type connector. This one has a 3.5" form factor. It features hot-plug support, is halogen-free, has Native Command Queuing (NCQ), TGMR recording technology and Worldwide Name. It is based on Seagate OptiCache technology and SmatAlign technology.
The hard drive provides serial ATA 600 storage interface, 8.5 ms average seek time, 600 Mbps of data transfer rate, 4096 Hz bytes er sector and 50000 starts/stop cycles. Talking about power consumption it requires 0.94 W of active, 2 W of idle, 4.6 W standby and 5.3 W of start power. Overall, you can totally consider this one if you are looking for a hard disk drive in the 3.5-inch category.
Click To Check Out The Price Of "Seagate ST1000DM010": @Amazon, @Newegg.
---
2nd 3.5 Inch – Seagate Constellation ES.3 'ST1000NM0033'

About it: Next in the list is again by Seagate. The Seagate constellation model is a highest-capacity large form factor drive with 4 TB storage capacity. To ensure 24*7 reliability it features sixth-generation drive technology with SATA and SAS interfaces. It ensures super parity, enhanced error correction, and end-to-end SAS-based data improvement.
This upgrade is done for accuracy in data storage.  For consistent performance, it has best in class tolerance for rotational vibration. This one ensures low power consumption with improved power and cooling features. Also, it has on-demand PowerChoice.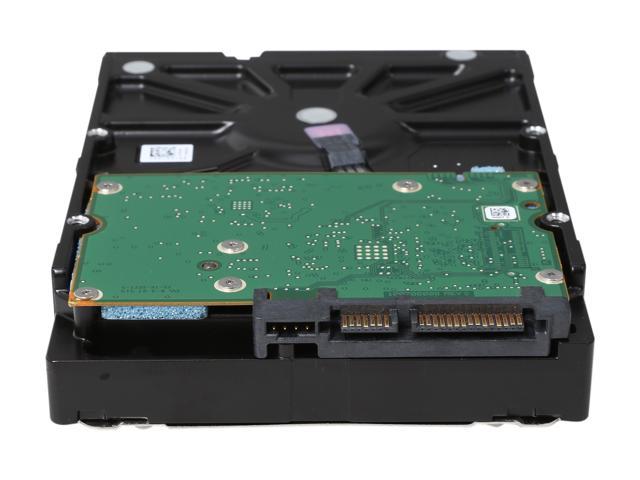 The drive follows T10/T13 power management standards making it high-technology. It has a multi-drive firmware which is maximized for the enterprise RAID system presence. With dual processors, it ensures robust performance.
Also, ramp load technology and humidity sensors improve the performance. Also, it has top-cover attached motor again for high-performance purpose in all situations. It allows self-encrypting drive with FIPS 140-2 validation. With Seagate Constellation your data is safely secure and you will have peace of mind.
Its best fit applications count High-capacity RAID storage, cloud bulk data storage, Enterprise backup and restore, virtual tape, centralized surveillance. Also, mainstream enterprise external storage arrays (NAS, SAN, DAS). The hard disk drive is featured with SATA 6 Gb/s interface, 512 bytes per sector, 128 MB o Buffer size, and 7200 rpm rotation speed.
Click To Check Out The Price Of "Seagate ST1000NM0033": @Amazon, @Newegg.
---
1st 3.5 Inch – Western Digital Gold 'WD1005FBYZ'

About it: WD Gold is the topper of our list in the 3.5-inch category. It never misses any chance to deliver high workload dependable performance in every environment. It can handle up to 550 TB workload in a year and always among the top when looking for a 3.5-inch hard disk drive.
It ensures reliability and durability in all aspects, designed for a yearly operation that too in most demanding storage sectors. Also, the reliability level increases with 2.5 million hours MTBF. This ultra-robust storage device claims 5 years of warranty.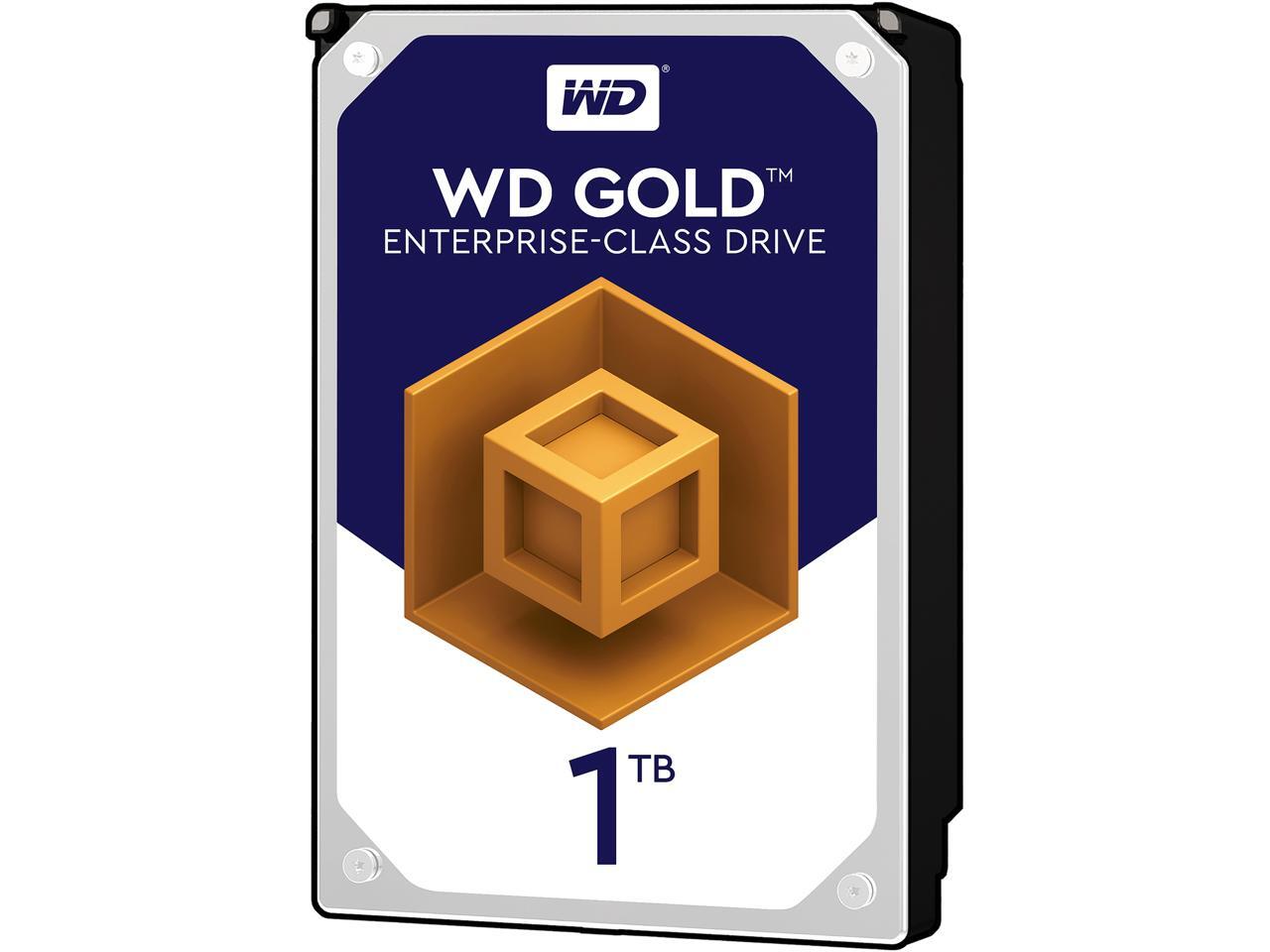 It features SATA 6 Gb/s interface with 3.5-inch width and 1-inch height.  The rotational speed is 7200 rpm enabling high-speed performance. This hard disk drive features dual storage actuator head positioning system to provide high accuracy performance.

The primary stage follows course displacement while the secondary stage follows piezoelectric motion. This is to tune the head positioning for high accuracy purpose. The WD Gold hard disk drive ensures the fastest performance with 7200 rpm rotational speed at highest workload conditions.
It also features vibration protection using sophisticated electronics. This is done by correcting rotational and linear vibrations in real time. This makes it reliable in vibrational working conditions also.
Click To Check Out The Price Of "WD WD1005FBYZ": @Amazon, @Newegg.
---
And that's our top 7 list of the best 1TB (2.5/3.5 Inch) HDD what you can get for your desktop or laptop computer. Stay tuned for more! – So, what will you pick, if you wanted one for yourself? Let me know in the comments below:

Happy Shopping!!!
Still Finding Solution or Need Some Help ?
If you still can't find your solution then maybe you'll need to contact us and we will definitely gonna help you out by our technical support.
Click Here For The Technical Support