Best 2TB Internal HDD For The Money
Report Data Collected On: 3/Jun/2017
There was a time when people buy a one terabyte of hard disk drive to fulfill their all huge storage needs but today one Terabytes isn't that huge now and it's just happened because of every computer data which is becoming bigger and bigger now, whatever it's a movie or a game and nowadays a single playable game needs at least 50 Gigabytes of storage or a single 4K movies comes in 100 gigs and that's the part where you need to get the bigger storage holding storage drive only if you are planning to increase your data collection.




And in this article, I talking about some excellent 2 Terabyte disk drive product to make your storage shopping a lot handier and help you out to pick the best disk drive product for your Computer, Laptop, NAS and yes, also for your Gaming Console too.
So, first I'm gonna starts with what things you'll need to check before buying any Hard Disk Drive because not every Disk Drive is same and all different models come with the different specification and that specification decides the hard disk driver's whole performance.
Here's the list of few important things what you'll need to see before buying any HDD:
Size – HDD comes in three differ size, 3.5 Inch big drive what normally used in desktops, 2.5 Inch 9.5mm small drive what normally used in laptops and the third one is 2.5 Inch 7mm drive which is actually same looking as compared to 2.5 Inch 9.5mmdrive but just 2.5mm thinner. So, make sure about the size before buying any and you can also look at your old system drive to confirm the size.
RPM – HDD uses a motor to spin the disk built in it, and the motor speed defines through RPM (Round per minute). So, higher the number is better.
Cache – HDD cache mainly used to process current process data and the only thing what you'll need to remember is, the higher the cache size is, the better multitasking that HDD gonna handle.
So Let's See The List
Actually, I made this list by calculating the Hard disk's finest Performance what comes in the best price range by also reading the users reviews on different websites.




---
#Best 2.5 Inch 2TB Hard Disk Drive & SSHD (Laptop Size)
Top 2nd HDD – Seagate Barracuda ST2000LM015
Size– 2.5 inch, 7MM
RPM– 5400
Cache Size – 128MB
Interface – SATA 3.0, 6 Gb/Second
Warranty – 2 Years
Price Tag – 100$ Approx.
Comment: Barracuda is the oldest series of Seagate brand and time to time Seagate did some best to upgrade their product marvelously to deliver the excellent performance to the client user and if you need a decent 2TB hard disk drive for your laptop computer then this is the perfect budget disk drive what you can have to run your laptop faultlessly which having enough storage space to store all your huge data at decent read and write performance speed.
128MB Cache storage space is actually huge for a laptop device and if you a person who does some multitasking work on their laptop then replacing this drive in the place of old one will make your laptop's performance to the another level.
And yes, there is also a bad thing which I dislike about this product and which also really matters the most and that main thing is, only 2 years of warranty period which is really a short time period for a hard disk drive, but if you don't mind having 2TB with 128MB Cache size for around 100$ is still worthy.
Top 1st HDD – Seagate Firecuda ST2000LX001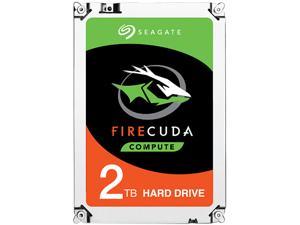 Size– 2.5 inch, 7MM
RPM– 5400
Cache Size – 64MB with 8GB NAND
Interface – SATA 3.0, 6 Gb/Second
Warranty – 5 Years
Price Tag – 120$ Approx.
Comment: Firecuda is the latest product of brand name Seagate and actually this drive is not a normal hard disk drive because it's an SSHD which is the mixture of a hard drive and a solid state drive and the reason why a love this drive so much is because of its 5 times faster performance as compared to a normal disk drive.
So, if you put this drive in your laptop or maybe in your gaming console like PS4 then I bet you'll say wow!! When you'll test the real-time performance on your system. Mainly this drive is born to do some hardcore gaming and that clarifies if you can play games on it then you can do anything with it.
And at last the best part is, "5 Years of Freakin Warranty Period" in around 120 dollars which really makes this drive to fall in Love with.
#In My Opinion
Seagate is the only brand who is making some really good hard drive for laptops and gaming consoles and it's all just happened because of continuous product upgradation for the great enhancement which none of other companies is doing for the small size 2.5-inch drives.
And according to me buy an SSHD, because it's really fast and you can easily use it in your gaming console too, other than you laptop. The main thing is, spending around 120 dollars for a 2 terabytes SSHD isn't than expensive too as compared to really expensive SSDs and believe it or not but this the highest selling 2.5-inch disk drive in the whole market.
Or otherwise, if you looking for a decent hard drive without paying extra then you can go for the 2nd top one drive because having 128MB cache disk drive is also a good choice to have and that drive also having some really good data read and write performance too. Or at last, the choice is yours.
---
 #Best 3.5 Inch 2TB Hard Disk Drive & SSHD (Desktop Size)
Top 4th HDD – Toshiba Desktop DT01ACA200
Size– 3.5 inch
RPM– 7200
Cache Size – 64MB
Interface – SATA 3.0, 6 Gb/Second
Warranty – 2 Years
Price Tag – 70$ Approx.
Comment: Toshiba is a well know Japanese brand which is mainly known for their different types of electronic products. Actually, Toshiba manufacturing hard disk from around more than 2 decade and from last 5 years this company doing really great and making some worth buying Hard disk drives for computer and laptop, but in my opinion the desktop one is better than the laptop one and that's the reason why I choose this drive to be in my top disk drives list to help you out to buy a budget disk drive for your computer.
Yes, this the only budget drive in this category who can provide you the 7200RPM of Speed with 64MB Cache size and believe it or not but this drive can perform actually ultimate well and I bought this drive for one of my friend last year and till now this drive performance is still same and work effortlessly.
Top 3rd HDD – WD Red 2TB NAS WD20EFRX
Size– 3.5 inch
RPM– 5400
Cache Size – 64MB
Interface – SATA 3.0, 6 Gb/Second
Warranty – 3 Years
Price Tag – 90$ Approx.
Comment: WD Red is mainly made for Network Attached Storage (NAS) devices and this the best product I found for network storage solution. I personally didn't use any NAS hard drive for myself, but 2TB is quite actually famous for NAS devices and my website users continually asking me for a perfect 2TB NAS drive and that's the reason why I search different NAS compatible hard drives available on the online market on different e-commerce websites to suggest a better answer and finally I came up with this drive after reading 100+ users reviews.
WD Red is really the only drive who can perform that out well in NAS devices where none of any other drive can compete. This drive specifically designed to use in NAS systems with up to 8 bays which is actually really good and that's the only drive I found who really have that well benchmark result while using it for RAID 0 or RAID 1.
Top 2nd HDD – Seagate 2TB FireCuda ST2000DX002
Size– 3.5 inch
RPM– 7200
Cache Size – 64MB with 8GB NAND, (Solid State Hybrid Drive)
Interface – SATA 3.0, 6 Gb/Second
Warranty – 5 Years
Price Tag – 110$ Approx.
Comment: Seagate FireCuda is the fastest SSHD available in the market for desktops and if you need a fastest hard disk for gaming and production work then I think you can't able to find any other disk drive who can perform really better than this, even this SSHD is faster than the top first HDD under this category.
If you are a gamer then I don't think this drive will let you down in any condition because this is latest FireCuda product of Seagate which is incredibly fast and only born to deliver high-end disk drive performance. I know it around 110$ but it totally worth it because this drive has 8 GB of NAND flash memory which means it will give you the highest speed of around 350MBPS for the Processing Data under 8GB. So, it means if you wanted to copy and paste a 12GB blue ray movie in your SSHD it will give you 350MBPS speed while transferring the first 8GB and then the speed will decrease to 7200RPM normal Harddisk spinning speed.
8GB NAND is actually enough for processing data, I know it won't beneficial for huge data transferring but it really does while processing your current process data from hard disk and when I put this drive on my computer, my OS just opened in 10 seconds, pretty damn good right.
Top 1st HDD – WD Gold Datacenter HDD WD2005FBYZ
Size– 3.5 inch
RPM– 7200
Cache Size – 64MB
Interface – SATA 3.0, 6 Gb/Second
Warranty – 5 Years
Price Tag – 135$ Approx.
Comment: Actually, this is the drive what engineers use in servers and data centers and this Gold edition of Western digital's hard disk drive is the ultimate one in the 3.5 Inch category. I know this drive is slower than the second one but after reading a couple of paragraphs written down below you'll do understand why I this put this drive on the top 1st in this list.
First of all, this drive is the highest compatibility with any type of servers around the world so, you can just plug this drive into any computer device all around the world. Other than that, you can run this drive 24 hours x 7 weeks x 365 days without having any error because WD ensures the Higher level of reliability with up to 2.5 million hours of MTBF (Mean time between failures).
And not just that, you can write and erase data up to 550TB per year which is actually an insane number for a hard disk drive but it actually can do, which really makes this drive perfect for any data center or maybe your home server too.
#In My Opinion
First of all, only buy WD Red for NAS only and WD Gold for server only because you can't find any benefits while using it in a normal or maybe gaming computer because both of those devices is only manufactured for enterprise work only and if you do installed it on your computer then you'll can't get any performance difference and you'll just gonna waste your money.
For a gaming and normal storage solution, you can buy Top 4th or Top 2nd hard drive and that will work perfectly for your computer and worth every penny you spend. And in my opinion, go for SSHD only if you needed an ultimate speed performance. Or otherwise, the choice is yours.
Still Finding Solution or Need Some Help ?
If you still can't find your solution then maybe you'll need to contact us and we will definitely gonna help you out by our technical support.
Click Here For The Technical Support