Best 4TB Internal Hard Drive That You Can Buy For Your Desktop, Server, CCTV or NAS
Report Data Collected On: 1/Jan/2020
Hard Disk Drives are an important component of any laptop and desktop. This is a permanent data storage where data doesn't vanish off after switching the device off. The hard disk drives rely on magnetic storage and can use one or more rotating discs.
Unlike SSD which have no mechanical part and works as a USB storage, SSDs become famous these days but there are people who still prefer traditional HDDs because they can store more data than SSDs (as compare to price ratio) and always work extremely well and you can actually rely on them.
If you are going to buy a new device with an HDD or you are thinking of upgrading your old HDD you should be careful in choosing one. You need to find a good product and don't take it carelessly as they are one essential ingredient for a perfect rig.
There are various specifications you need to know before buying an HDD. Firstly, the form factors for HDD basically is the height of the hard disk drive, transfer rate, capacity. So, you need to check the compatibility of your device with a hard disk drive through the height of HDD.
The brand and interface are really crucial as well. Also, the rotational speed, the rotational speed defines the speed of rotation of the disk. So, you should always go for an HDD with more rotational speed. Then next is latency which is how quickly the HDD can read a sector, lower the latency better the HDD. Also, the data transfer rate and buffer are two important components.
One more important component is the storage an HDD provides. Nowadays in the market, there is a hard disk drive that generally offers minimum storage at low costs but in my opinion, if you go for a higher capacity drive you can get better speed and storage at a very competitive price.
Here you can check out our list of top: 8TB, 10TB & 12TB Hard Drive 
You'll not be able to find any 9.5MM or 7MM 2.5 Inch drive for your laptop under this storage category. Highest you can go for 2 TB hard drive which you can check over here >>Top & Best 2TB HDD (Hard Disk Drive) – Monthly Updated. Here, we only discussed about the 3.5 Inch 4TB hard disk drives which are best in performance.
Suggested links: Difference Between in 'Desktop/NAS/Surveillance/Enterprise' Hard Disk Drive, How To Buy A Good New Hard Disk Drive?




So, Let's See How Many Perfect 4 TB Hard Disk Drive Are Available:
---
#Best '

Desktop Grade Hard Drive'

Under 4 TB Category
---
3rd

 3.5 Inch –

Seagate Desktop HDD 'ST4000DM000'

About it: This hard drive from Seagate has been created for normal-performance applications with a capacity of 4TB.
ST4000DM000 has a 5,900 RPM spindle speed which confines the data transfer rate to 176 MB/s but a slow spindle reduces power consumption. It is equipped with shingled magnetic recording platters technology by Seagate and has an average 5.6W read/write power consumption rating and 0.5W while idle/sleep.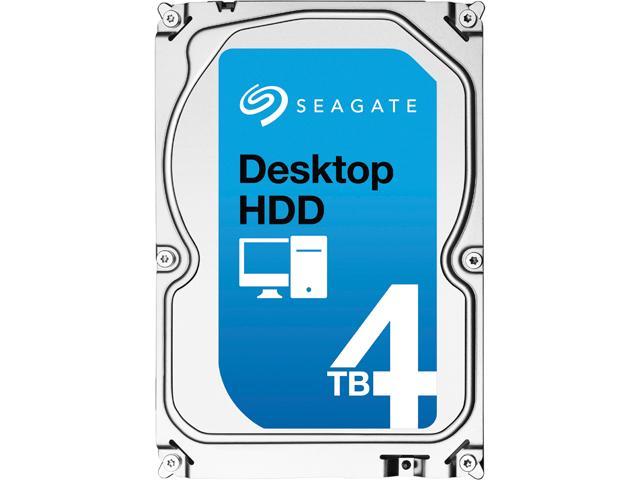 The hard disk drive resembles the same technology as some of their earlier designed hard disk drives. It comes with 64 MB of cache memory with a DRAM cache for increased reliability.
Also, the multi-tiered caching was involved to hide peculiarities of SM. Shingled magnetic recording platters are used to overlap the previously written data in the hard disk drive. The overlapping processing tends to slow down the process a little as it writes on adjacent tracks but the Seagate has taken care of it by various ticks such as organizing of SMR tracks into bands.
It's the cheapest drive you can get under this category.
Click on link to check out the current price of "Seagate Desktop HDD ST4000DM000": @Amazon US ($69.99), @Amazon UK (£89.99), @Amazon IND (₹10,049.00), @BestBuy (N/A),  @Walmart ($73.99), @Newegg ($170.99).
---
2nd

 3.5 Inch –

WD Blue 'WD40EZRZ'

About it: Western Digital Blue series become quite famous these days, at affordable prices you can get a decent speed with the trust of 2 years warranty support.
This has been proven to be the best in a particular field. During manufacturing, the hard disk drive was going through a grueling design test to ensure its high-quality performance and passs stringent ongoing reliability testing to ensure reliability. The hard disk driver neglects service calls and provides minimum TCO results in reducing downtime.
The power consumption is an important feature. The scientists across the world are trying to invent such technology which takes the least power to run (4.5W while read/write and 0.4W on standby or sleep). The WD Blue provides the double storage in fewer watts is one spotlight feature of the hard disk drive. It initially came up with SATA 6 b/s interface, with 64 MB cache memory and 5400 RPM spindle speed the hard disk drive delivers better performance than drives with higher spindle speed.
Delivered in a WD-certified box for safe transportation but the product comes with the only hard drive. You will have to purchase the additional required cables separately if needed.
It's the only drive in this list which worths buying and really is a better deal than the 'Seagate ST4000DM000' if you look at the transfer speed.
Click on link to check out the current price of "WD Blue WD40EZRZ": @Amazon US ($89.00), @Amazon UK (£85.99), @Amazon IND (₹8,799.00), @Bestbuy ($119.99), @Walmart ($115.00), @Newegg ($89.99).
---
1st

 3.5 Inch –

WD Black 'WD4005FZBX'

About it: The WD Black hard disk drive is designed for the people who are looking forward to upgrading their desktop PC storage. It has a lot of variety in the upgrade that will totally surprise you. It does a tremendous job for storing multimedia files, video and all other stuff with high-speed performance.
The 4 TB and 3.5-inch form factor variant have two variants of cache memory which is 128MB and 256MB, and the one we are reviewing about is the 256 MB cache memory variants. The WD's dynamic cache technology is known for its high-speed data transfer and load. In real-time it optimizes cache between reads and writes. It reduces the vibration elimination in the system that further improves the reliability of the device. The hard disk drive in considered to be the best for daily use. It offers you a large space to store your gaming library.
It comes with a 5-year warranty so that you can have peace of mind for the next five years after buying this. It features a dual-core processor which shows twice the loading capacity as compared to those with a single processor hence you will receive maximum performance.
It is equipped with the SATA 6 Gb/s interface which is most reliable in the field of hard disk drives. The rotational speed f the hard disk drive is 7200 RPM which delivers the fast processing of data. It is equipped with the advanced format (AF) and RoHS compliant. With 300000 loads/unload cycles it can take up most tense workload conditions.
Designed with so many good features and specifications it delivers inspiring performance and capacity. It is designed for creators and gamers. This works amazing for those who do things like video editing and stuff. With increased reliability and DRAM cache, the WD has totally taken their game to the next level with this hard disk drive.
Spending 171 dollars on a 4TB drive isn't a good idea. Did you know that in 110$ you can get the same performance 6TB hard drive, you can check out here >> Top & Best 6TB HDD (Hard Disk Drive) – Monthly Updated
Click on link to check out the current price of "WD Black WD6003FZBX": @Amazon US ($171.00), @Amazon UK (£176.54), @Amazon IND (₹19,499.00), @BestBuy (N/A), @Walmart ($215.53), @Newegg ($179.99).
---
#Best '

NAS Grade Hard Drive'

Under 4 TB Category
---
1st

 3.5 Inch –

WD Red Pro 'WD4003FFBX'

About it: WD Red Pro is a great option for a big size NAS system, it's the only one under this category that can supports 24 bay NAS compatibility. With the help of its advanced NASware 3.0 technology, the drive can surly handle heavy workloads and perfect for any kind of business environment.
The 3D Active Balance feature will calculate speed which will lessen noise, power usage and vibration. The smallest of shock is detected by the Multi-axis shock sensor which then functions accordingly to safeguard the data. Every fly height of the read-write head is adjusted in real-time for optimal dependability. The drive also features error recovery controls which help in enhancing the performance of your computer and also safeguards it from loss of data.
This hard disk drive represents 1M hours MTBF. So, this proves the reliability of the hard disk drive and you can depend on it even on the most extreme workload conditions.
It features 256 MB of cache memory for faster data processing. Noise in this hard drive is almost nil because of the technologically advanced auditory. The drive and your data are completely secure as the cool drive operation and other dependability features help it take care of the data stored on it.
Every drive has been tested for the extended burn-in with thermal cycling adding to the reliability layer of the hard drive. The recording head doesn't ever touch the disk media which means that there would be conspicuously less wear to the media and the recording head.
Buying the 6TB variant of this model is the better option because it will only cost you 40 more dollars than this one.
Link: Top & Best 6TB HDD (Hard Disk Drive) – Monthly Updated  
Click on link to check out the current price of "WD Red Pro WD4003FFBX": @Amazon US ($160.00), @Amazon UK (£161.03), @Amazon IND (₹19,000.00), @BestBuy (N/A), @Walmart ($168.99), @Newegg ($143.99).
---
#Best 'Surveillance 

Grade Hard Drive'

Under 4 TB Category
---
1st

 3.5 Inch –

Seagate SkyHawk AI 'ST4000VE001'

About it: With the help of the highly advanced Seagate SkyHawk AI hard drive for CCTV DVR, the users can expect longer performance delivery and reduced need for any kind of post-deployment support.
The AI version is mainly designed to suit the next-generation deep learning and video analytics DVR or NVR systems.  This drive also packed with a special technology known as ImagePerfect firmware that offers support on a 24/7 basis.
This is achieved through surveillance-optimized workloads that have been tuned for recording around 90 percent of the overall time as well as video footage of the 10 percent remaining.
Safe, secure, and smart Seagate SeaHawk AI are engineered for offering high-end video recording. These feature three times the total workload rating of both the desktop as well as the laptop drives.
In addition to this, the hard drive by Seagate is also able to store around 10,000 hours of digital videos. The ATA streaming feature of the hard drive enables it to sustain the recordings from around 64 HD cameras for ensuring uninterrupted footage.
This drive can handle 550 TB/year workloads and has 2 million hours Mean-Time-Between-Failure rating with 5 years of warranty and a two-years of 'Seagate Rescue Services' plan which will back you up for any data loss in future.

In my Opinion;
Same model but the 6TB variant only available at 270$.
Link: Top & Best 6TB HDD (Hard Disk Drive) – Monthly Updated
Click on link to check out the current price of "Seagate SkyHawk AI ST4000VE001": @Amazon US ($230.00), @Amazon UK (N/A), @Amazon IND (N/A), @BestBuy (N/A), @Walmart (N/A), @Newegg (N/A).
---
#Best 'Enterprise 

Grade Hard Drive'

Under 4 TB Category
---
1st 3.5 Inch – HGST DC HC310 'HUS726T4TALE6L4'

About it: This hard disk drive by Western Design is manufactured by HGST which is a subsidiary of Western Design. HGST DC HC310 is the one with 2.0 million hours MTBF specification, the hard disk drive is a solid choice in 4 TB, 3.5-inch form factor category and has a sixth-generation HGST 5-platter design.
The hard disk drive is provided with SED to ensure the extreme security level as it is about your data safety. At enabled mode, the SED using a private key encrypted all the data in the drive. This is to ensure an extreme level of data security and hence increases the trust factor of the hard disk drive. To maintain the high speed of the disk the HDD is equipped with hardware-based encryption. The software-based encryption tends to slow the system.
The hard disk drive deserves your reality on them and is an ideal solution for consumer and commercial network-attached storage. This high-performance hard disk drive from WD has fast media transfer rate. It can transfer data 20% faster than the other 7200 RPM drives. Also, the procedure takes place in fewer milliseconds. The time saving and fast work done combination always catches the eyes of many users.
To prevent the damage or any loss due to vibration the hard disk drive is equipped with rotational vibration sensors that eliminate the minor vibrations.
This drive surely ranks top according to the storage category limit, but buying it isn't going be that beneficial for you. "WD Gold Enterprise-Class WD6003FRYZ" can deliver 252 MB/s Read & 251 MB/s Write speed, and cost only 226 dollars.
Link: Top & Best 6TB HDD (Hard Disk Drive) – Monthly Updated
Click on link to check out the current price of "HGST DC HC310 HUS726T4TALE6L4": @Amazon US ($169.45), @Amazon UK (£159.00), @Amazon IND (N/A), @BestBuy (N/A),  @Walmart ($168.85), @Newegg (N/A).
---
The hard drives mentioned above are amongst the best in the series of the 4 TB hard drives for both desktop systems as well as for the RAID systems.
If you are considering any kind of special features along with high performance and overall stability, then you can choose anyone out of these. The presence of a high-quality hard drive can improve your overall computing experience. Have a great time using these hard drives!
---
And that's our top 6 list of the best 4TB (3.5 Inch) HDD what you can get for your Desktop, CCTV, NAS or Server computer. Stay tuned for more! – So, what will you pick, if you wanted one for yourself? Let me know in the comments below:

Happy Shopping!!!