Best 8TB Internal Hard Drive That You Can Buy For Your Desktop, Server, NAS Or CCTV DVR
Report Data Collected On: 28/Nov/2019
Even though, you got the best M.2 SSD out in the market to maximize your storage satisfaction. But still, you just can't resist the power of mass storage of a Hard Disk Drive which can easily available at a reasonable price and can boot your storage barriers to the next level.
If you are looking for a perfect drive for your new gaming rig and running on a tight budget (because I know that you have already added the bigger size SSD into your cart;
Then I think, the 8 Terabyte drive can surely keep you up with the storage, only if you're not a video productive psychopath who uploads daily on YouTube.
And in this cold war of 'extra storage' or 'extra performance' between HDD and SSD, I don't think that the time will come too soon when the price of SSDs beat the price of the mechanical hard drives.
Other than desktops and storage servers;
Surveillance is one the rise throughout the world. Companies are more aware of the need for good quality cameras to monitor their property and keep a check on theft and vandalism.
High definition cameras are garnering a lot of attention which inevitably leads to the creation of more data. With government regulations tightening everywhere, most companies are required to store this data for a substantial period of time
Needless to say, drives vary in the services they would offer. Every drive serves its own purpose and choosing the right one can ease a lot of problems that may come up in the future if you pick the wrong drive.
Drives that support multi-RAID environments, offer a range of capacities, and have the ability to run for long periods of time are usually preferred by companies over others.
Depending on the firmware and components of the drive, a company or an individual may find a particular drive to be most suitable for the work they perform.
It is important to pick the right drive for the purpose to ensure that the drive works effectively and maximizes its functionality for the user.
To make it easy for you, we have created a list of the top 8 TB hard drives for the NAS, Servers, CCTV & desktop systems. These hard drives come with unique features to improve the overall performance of the particular system that you are using. Have a glance at some of them.
Suggested links: 
So, Let's See How Many Perfect 8 TB Hard Disk Drive Are Available:
---
#Best '

Desktop Grade Hard Drive'

Under 8 TB Category
---
2nd

 3.5 Inch –

Toshiba X300 'HDWF180XZSTA'

About it: This 144-year-old well-known Japanese brand is actually the top third disk drive maker in the storage market behind the Seagate and Western Digital. In fact, they shipped 23.4 million units in 2018's third quarter.
Toshiba X300 family has 7 different storage variants to choose from, you can get anything from a 2TB to 14TB capacity drive, but right now the 8TB version is selling at the wonderful price tag of 149.99$ which will be surely not going to put a hole in your pocket.
If you look into the specs you can see that this drive can perform amazingly great, even the top 1st desktop drive of our list can't beat its performance. At 7200 RPM this drive can offer, whooping 235 MB/s read and 210 MB/s write speed which I think is 30% better than its predecessors P300.
In the comparison of price this drive is surely indisputable, whereas on the other hand it also lacks in under 2 different categories;
First, it has a low amount of 128 MB cache, instead of having 256 MB (which will be going to make a difference in Random Read and Write speed). The second most important thing that this drive is missing is the longevity of the warranty, for this model they are only offering 2 years of warranty, which at least needed to be 3 or maybe more than 3 years but what we can say after looking at the shiny price tag of this performer hard drive.
In my Opinion;
It surely came with a low amount of cache and warranty but in terms of performance, it really is a heck of a deal.
Click on link to check out the current price of "Toshiba X300 HDWF180XZSTA": @Amazon US ($149.99), @Amazon UK (£140.81), @Amazon IND (₹34,999.00), @BestBuy ($207.99),  @Walmart ($197.38), @Newegg (N/A).
---
1st

 3.5 Inch –

Seagate BarraCuda Pro 'ST8000DM0004'

About it: Seagate is known to develop the most advanced and reliable storage drives as a result of its cutting-edge technologies.
BarraCuda Pro is available in up to 14 TB capacity but currently, we are highlighting the 8TB version which is more than enough to store whatever you want. You can conveniently store millions and millions of files in just a single drive without worrying about their security.
The drive can effortlessly handle a bulk of data without any heating or loss of capacity issues. These features make the drive suitable for both home and enterprise usage. BarraCuda Pro is capable enough to run high-end games and other applications seamlessly without any lags. The unmatched performance and endurance of the drive make it one-stop solution for all your storage needs.
When talking about the performance and data transfer speed the drive works on SATA 6 GB/s interface and can achieve up to 237 MB/s while reding the data sequentially with the spindle speed of 7200 RPM.
Seagate provides you with a five years limited warranty. To further keep your mind at peace they also provide a 2 years data recovery plan which ensures you about the safety of your data. So even if the drive falls accidentally and got damaged you need not worry about the loss of your valuable data.

In my Opinion;
The reason behind why I put this drive on the first position is because it can produce the maximum performance only under the desktop category.
But, if you really wanted to invest in a desktop hard drive and can spend 20 or 25 more dollars then I can really suggest you, to get a 10 TB variant of BarraCuda Pro because it can easily achieve 245 MB/s read speed.
>> Top & Best 10TB HDD (Hard Disk Drive) Reviews – Monthly Updated
Click on link to check out the current price of "Seagate BarraCuda Pro ST8000DM0004": @Amazon US ($293.76), @Amazon UK (£290.00), @Amazon IND (₹40,499.00), @BestBuy (N/A), @Walmart ($303.69), @Newegg (N/A).
---
#Best '

NAS Grade Hard Drive'

Under 8 TB Category
---
3rd

 3.5 Inch –

WD Red Pro 'WD8003FFBX'

About it: Western Digital presented the Red series back in mid-2012, which was basically a copy of its Green model (because of the same performance and specs), but it came with a new feature called NASware technology.
NASware was mainly introduced to improve the storage concerns of the NAS environment, which includes compatibility, integration, upgradeability, reliability and the cost-of-ownership.
Currently, all the Red and Red Pro series hard drives use the third generation of NASware firmware and the Pro version drive can work with up to 24 drives in a single NAS system, where the previous version can only work with up to 16 drives.
This drive spins at 7200 RPM and has 256 MB cache, the specs really help to maintain its 210 MB/s read speed and can work 24×7 with handing heavy business loads up to 300 TB/year. Another great thing about this drive is that it comes with 5-years of warranty which it will definitely back you up as the brand has its reputation.
This drive also comes with the 'Multi-Axis Shock' sensor which automatically detects every minor shock and fixes the read/write problems with the help of dynamic fly height technology which adjusts each read-write function to compensate and protect the data.
In my Opinion;
Having a 24-bay supported drive is a great choice for a big NAS Server.
Click on link to check out the current price of "WD Red Pro WD8003FFBX": @Amazon US ($289.45), @Amazon UK (£311.57), @Amazon IND (₹31,900.00), @BestBuy (N/A),  @Walmart ($340.74), @Newegg ($289.99).
---
2nd

 3.5 Inch –

Seagate IronWolf 'ST8000VN0022'

About it: Users looking for a mid-range NAS, server or cloud storage hard disk drive will find the Seagate IronWolf NAS ST8000VN0022 to be suitable. With over 40 years in the industry, it has brought some of the most functional drives for companies and individuals.
This drive also features a 7200-RPM spindle which helps it do well when it comes to performance. It can work in a 24/7 environment and comes with a 3-year warranty that helps you increase peace of mind when it comes to dealing with a mechanical drive. It mainly optimized for NAS and Servers and the ST8000VN0022 can able to work in the environment of 8 Drive Bay RAID System.
The firmware is designed specifically for the 24×7 NAS environment and ensures better uptime. The company also offers an Optional 3-year Rescue recovery service plan which you can buy with this HDD and that can help you to cover unexpected data corruption problems related to the HDD.
It includes 256MB cache which enables better performance of the drive and the design of the drive makes it easy to integrate into NAS and RAID rackmount systems. While the 8TB drive in discussion offers lots of storage space, the drive is also available in smaller capacities like 6/4/3/2/1 TB.
In my Opinion;
This drive is great, but did you know that the 10TB Toshiba N300 'HDWG11AXZSTA1' can go up to 235 MB/s and you can get in only 273$. >> Top & Best 10TB HDD (Hard Disk Drive) Reviews – Monthly Updated
Click on link to check out the current price of "Seagate IronWolf ST8000VN0022": @Amazon US ($208.99), @Amazon UK (£202.89), @Amazon IND (₹22,108.74), @BestBuy ($236.99),  @Walmart ($250.13), @Newegg ($209.99).
---
1st

 3.5 Inch –

Seagate IronWolf Pro 'ST8000NE0021'

About it: The IronWolf Pro drive has been built by Seagate for the heady-duty NAS uses. It uses Agile Array which is a technology that supports the optimization of the drive's reliability and system agility.
The drive is capable of handling constant vibration which is common in NAS spindle drives which work round the clock. The drive is known to handle high workloads easily making it easier for users to scale up without having to look for drive alternatives.
The Seagate IronWolf is Very reliable when it comes to handling write-intense NAS systems because this drive can able to work in the environment of 16 Drive Bay RAID NAS System with the 5-year warranty.
It also includes a Rescue Data Recovery Service Plan which provides assurance for the unexpected loss of data which means that you would have to deal with fewer troubles in events of RAID Controller failure or power surges or any unplanned disaster.
Exceptional performance even when compared to other drives with similar features and price. Ensures reliability and system agility. Handles extreme workload rates. It is also a reasonably quiet drive and handles the load without heating up too much or too quickly. It uses less power and also works without generating a lot of heat ensuring longer lifecycles.

In my Opinion;
Again, I'll suggest you to go for a 10 TB Toshiba N300 'HDWG11AXZSTA1' that you can get in only 273$. >> Top & Best 10TB HDD (Hard Disk Drive) Reviews – Monthly Updated
Click on link to check out the current price of "Seagate IronWolf Pro ST8000NE0021": @Amazon US ($309.99), @Amazon UK (£325.74), @Amazon IND (N/A), @BestBuy (N/A), @Walmart (N/A), @Newegg (N/A).
---
#Best 'Surveillance 

Grade Hard Drive'

Under 8 TB Category
---
2nd

 3.5 Inch –

Seagate SkyHawk 'ST8000VX0022'

About it: 40 years experience in building the mechanical hard drive, Seagate isn't a newcomer to the game of surveillance storage. Right now, it dominates the whole surveillance storage market with its ultimate performance and specs.
The Seagate Skyhawk series uses the same technology as you found on the IronWolf, IronWolf Pro, Barracuda, and Barracuda Pro, but with the help of their 'ImagePerfect Firmware' these drives are specially optimized for the DVR (Digital Video Recorder) or NVR (Network Video Recorder) systems.  
This 8 TB drive comes in the standard desktop 3.5" inch size and includes all the features you'd expect from a performer hard drive: 256 MB of cache, 7200 RPM spindle speed, 180 TB/year workload rating, and the three-year warranty support.
Seagate doesn't specify that it's a helium-filled drive. It draws 8.73 watts on average and 7.06 watts when it's idle. So, it's possible that it'll make a bit louder noise or heat up while running. It can handle any heavy-duty surveillance workload 24/7 with working up to 64 cameras which is perfect if you have a big surveillance setup.
The overall performance of the drive is very good and it can support up to the 8-drive bay system. It really performs very well when compared with the other drives with similar features.

In my Opinion;
I don't think you'll ever find a surveillance drive with that kind of performance at that price of range. But if you still looking for something more then you should need to check out the top 1st drive of this category.
Click on link to check out the current price of "Seagate SkyHawk ST8000VX0022": @Amazon US ($224.99), @Amazon UK (£257.50), @Amazon IND (₹39,690.00), @BestBuy (N/A),  @Walmart ($279.99), @Newegg ($224.99).
---
1st

 3.5 Inch –

Seagate SkyHawk AI 'ST8000VE0004'

About it: Seagate SkyHawk AI is an entirely new and ultra-dependable hard drive from the world leaders Seagate Technology. The AI version is mainly designed to suit the next-generation deep learning and video analytics DVR or NVR systems.
It also includes the 'SkyHawk Health Management' a monitoring software designed to prevent data loss or hardware failure by analyzing the drive parameters and then use the proprietary algorithms to fix the problem. The software will also recommend some tips to prevent deterioration – such as temperature or vibration control.
If you look over the specs, the SkyHawk AI variant is actually a better deal as compared to the SkyHawk. It can handle higher workloads, which is rated to be 550 TB/year and have 1.5 million hours Mean-Time-Between-Failure rating with five years of limited warranty and a complimentary two-years 'Seagate Rescue Services' plan which included with the drive.
This drive is designed to run all the time and claims to have three times the workload rating of desktop drives. You can use this drive 24 x 7 without thinking about power consumption as it only consumes 8 Watts.
It also contains a rotational vibration sensor and advanced vibration management which allow the drive to work effortlessly while working with the 16 different drivers in a single video recording system.

In my Opinion;
In 240 dollars, this drive will definitely get you more than you expect.
Click on link to check out the current price of "Seagate SkyHawk AI ST8000VE0004": @Amazon US ($240.00), @Amazon UK (£249.98), @Amazon IND (N/A), @BestBuy (N/A), @Walmart ($680.66), @Newegg ($269.99).
---
#Best 'Enterprise 

Grade Hard Drive'

Under 8 TB Category
---
3rd

3.5 Inch –

Seagate Enterprise NAS 'ST8000NE0001'

About it: Seagate Enterprise NAS HDD is a high endurance hard drive specially designed for the for mid-range NAS, server and
scale-out cloud storage use. It is a 3.5 inches internal hard drive available in wide ranges of capacity to suits all your needs.
There is a lot you can get out of this drive in terms of performance. 248.5 MB/s read and 244.8 MB/s write are actually pretty good.
The Seagate ST8000NE0001 HDD is capable of delivering really high data transfer speed as a result of its comprehensive advanced cache feature making it suitable for all your enterprise workloads.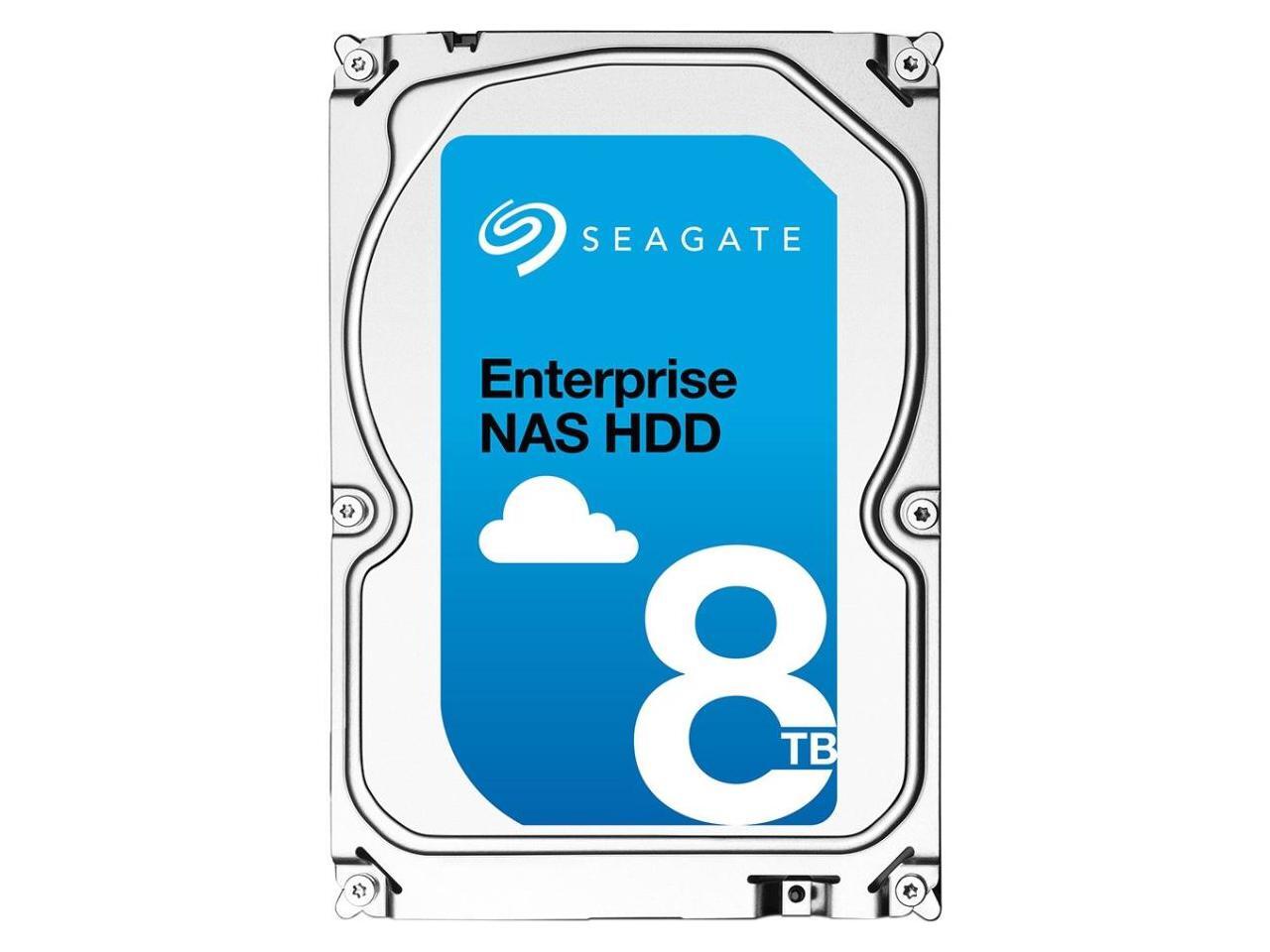 This drive is also vibration and shockproof with power consumption as low as 9 Watt so you can use all the year-round without any problems. The drive comes preloaded with advanced and innovative features like Power choice, Power Balance, Humidity Sensor, Super parity as well as RIAD Rebuild.
The device works on SATA 6 Gb/s interface for easy integration. The MTBF of this enterprise HDD is 1,200,000 hours.
Seagate also gives you a healthy five years warranty for the peace of your mind. It is affordable and super reliable both at the same time with very high endurance which is a prime need for enterprise storage devices. Thus Seagate Enterprise ST8000NE0001 is a masterpiece with extraordinary capabilities makes it one of the best enterprises HDD available in the market.

In my Opinion;
It's a perfect drive if you look at the speed but it's a bit expensive too.
Click on link to check out the current price of "Seagate Enterprise NAS ST8000NE0001": @Amazon US ($489.90), @Amazon UK (N/A), @Amazon IND (N/A), @BestBuy (N/A), @Walmart (N/A), @Newegg (N/A).
---
2nd

3.5 Inch –

HGST DC HC320 'HUS728T8TALE6L4'

About it: HGST DC HC320 has been in the market for more than a year and it has constantly proved its muscle against other drives.
The drive performs exceedingly well in highly demanding work conditions. These drives are rated to handle workloads of 550TB per year as compared to the other 300-180 TB per year drives.
With the new Third Generation HelioSeal® technology, it offers one of the lowest power profiles in the industry to help data center architects meet eco-environmental goals and requirements.
This helium-filled HDD comes with a hermetically sealed chassis that features an internal helium environment. This allows for lower friction which means it consumes lesser power to spin the platters. This means that you will also notice lower heat emission in this drive. Internal turbulence is also relatively lower and it does not make a lot of noise either.
Comes with 2 Million hours MTBF, this drive delivers the highest reliability rating available of all HDDs on the market today. The HGST 'HUS728T8TALE6L4' is a brilliant drive that has been optimized for the data center use. This is why it comes with the HGST media caching technology which makes concessions for sequential write performance and focuses more on small random write performance.

In my Opinion;
It's for sure that the price of this drive did impress you but stay continue because I have another great drive for you at the first spot.
Click on link to check out the current price of "HGST DC HC320 HUS728T8TALE6L4": @Amazon US ($249.99), @Amazon UK (£356.84), @Amazon IND (₹39,999.00), @BestBuy (N/A),  @Walmart ($301.60), @Newegg (N/A).
---
1st 3.5 Inch – Toshiba MG Series 'MG06ACA800E'

About it: Toshiba's MG06 series really have some guts to meet the industrial requirements, with their improved magnetic recording head and disk magnetic layer, the drive performs amazingly well. High capacity per spindle also helps to reduce the servers supporting application workload.
MG06 series has three storage variants to choose from, both 4kn and 512e sector drives are available. The brand says that the series can achieve a sustained transfer rate of 237 MB/s, but after reading a bunch of reviews I can surely say that the drive can easily reach up to 220 MB/s.
The drive will draw 9.1 Watts while performing random Read/Writes and 6.4 watts when it's active idle, Low power consumption and lower thermal output aids reduction in the Total Cost of Ownership of the drive.
This drive has seven PMR platters along with a 7200 RPM motor and 256MB cache which uses Toshiba's Persistent Write Cache Technology for the perfect enterprise-grade performance and reliability. This HDD is engineered to tackle the most rigorous workload of up to 550 TB/ year without any damage or loss of storage capacity. It comes with 5 years of warranty and has 2.5 million hours MTBF rating.
MG06 series also includes Toshiba's 'PWC' with power loss protection (PLP) which helps to store the data that is not yet written to the HDD media. PWC with PLP can be useful in such a condition when the drive experience a sudden power loss

In my Opinion;
This drive has everything, wonderful specs & performance, the cheap price tag, but still, I have a better deal for you.
Did You know that the 10 TB Drive can get you 250 MB/s Read & Write Speed in 300 dollars >> Top & Best 10TB HDD (Hard Disk Drive) Reviews – Monthly Updated
Click on link to check out the current price of "Toshiba MG Series MG06ACA800E": @Amazon US ($262.00), @Amazon UK (£250.55), @Amazon IND (N/A), @BestBuy (N/A), @Walmart (N/A), @Newegg (N/A).
---
The hard drives mentioned above are amongst the best in the series of the 8 TB hard drives for both desktop systems as well as for the RAID systems.
If you are considering any kind of special features along with high performance and overall stability, then you can choose anyone out of these. The presence of a high-quality hard drive can improve your overall computing experience. Have a great time using these hard drives!
---
And that's our top 10 list of the best 8TB (3.5 Inch) HDD what you can get for your Desktop, CCTV, NAS or Server computer. Stay tuned for more! – So, what will you pick, if you wanted one for yourself? Let me know in the comments below:

Happy Shopping!!!